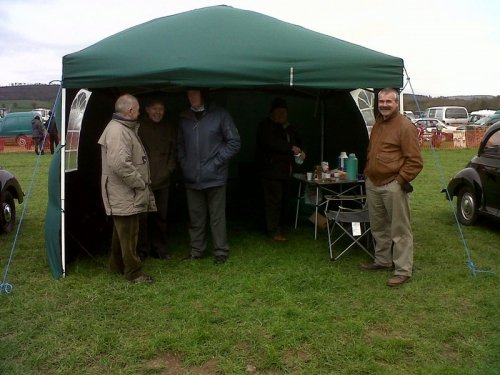 Due to the demise of our Club's Gazebo, we have decided to up-grade it. Our trusted friend and shelter for many years has finally given up the ghost. Although still functional, it was taking longer to assemble it at shows. Tie-wraps and insulating tape have been used in abundance over the past few seasons.
On a recent visit to O'Meara Camping, we selected a similar Gazebo. It is the same size at 3mx3m and is made of stronger aluminium box section. It has four sides of which two are full, one window section and one entrance. Spare sections for the frame are available should we need to repair it in the future. O'Meara Camping also offer a repair service should the cover ever become ripped or torn.
We have also selected to buy a set of four concrete weights. These can be used in conjunction with guy ropes and pegs but are ideal when used alone. They do away with the trip hazards associated with guy ropes and they are also ideal when used on a hard stand.
We hope to have our new Gazebo in use very soon.